The NSW Environmental Education Awards are an annual awards program, recognising and celebrating the achievements of environmental educators across NSW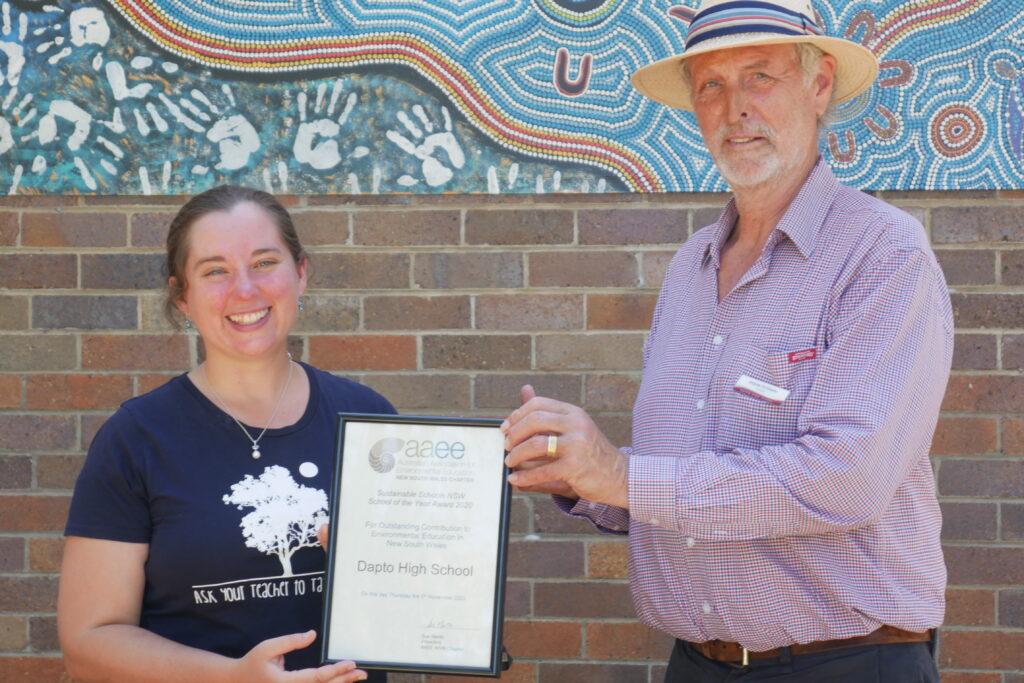 Making time to celebrate achievements is important for school educators, school communities and the environment education sector.
At Environmental Education NSW, we recognise outstanding achievement in environmental education and education for sustainability through our annual awards program. 
Nominate yourself, a colleague or an outstanding educator for the:
– Sustainable Schools NSW Sustainable School of the Year Award
– Sustainable Schools NSW Teacher of the Year Award
– Return and Earn Program Leader of the Year Award
Nominate now for the 2023 Awards, applications open until Friday 6th October. 
You can view a PDF summary of the nomination questions for all awards here. We recommend you prepare your answers in a word document first, then copy and paste into the online form, as you cannot save and return to this form. 
Ann-Kathrin Kiehn, St Columba Anglican School. Winner – Sustainable Schools NSW Teacher of the Year Award
Shannon Kelly, The Nature School. Highly Commended – Sustainable Schools NSW Teacher of the Year Award
Belltrees Public School. Winner – Sustainable Schools NSW School of the Year Award
Rose Everingham, Regentville Public School. Winner – Return and Earn Program Leader Award
Rebecca Hoad, St Ignatius College, Riverview. Highly Commended – Return and Earn Program Leader Award
Jayne Alba, Oxley Park Public School. Winner – Sustainable Schools NSW Teacher of the Year Award
Nicole Hext, Bringelly Public School. Highly Commended – Sustainable Schools NSW Teacher of the Year Award
Aldavilla Primary School. Winner – Sustainable Schools NSW School of the Year Award
Caddies Creek Public School. Highly Commended – Sustainable Schools NSW School of the Year Award
Christopher Yates, Ryde Secondary College. Winner – Sustainable Schools NSW Teacher of the Year Award
Julie Rogers, Lucas Heights Community School. Winner – Return and Earn Program Leader Award
Dapto High School. Winner – Sustainable Schools NSW School of the Year Award