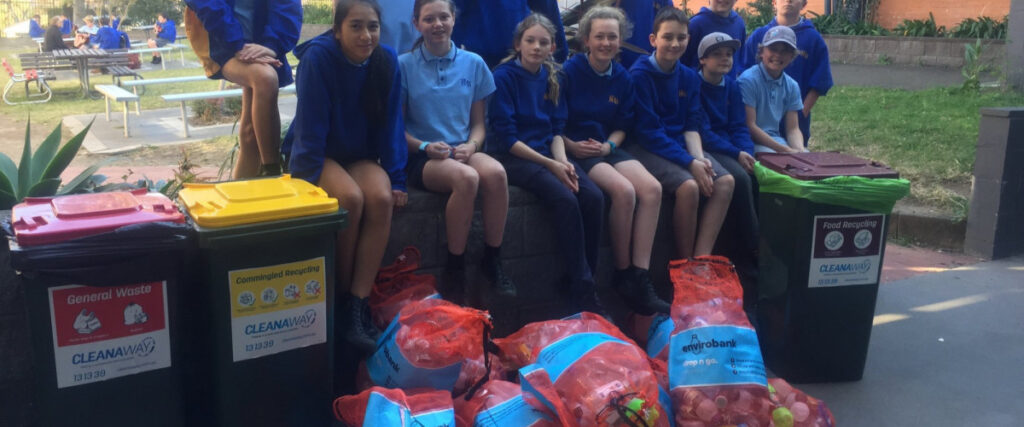 Kiama High School is a large public school on NSW's south coast. With over 1,000 students and 90 staff, the school was churning large amounts of waste that was destined for landfill. One teacher, Kimberley Cutting, took it upon herself to change this and turn the school into a sustainability champion.
In 2018, Kiama High School partnered with ABC TV's War on Waste to reduce their waste and, in just two school terms, they were able to reduce the landfill waste from 15m3 per week to just 6m3. Involving the War on Waste program helped to document and share the school activities.
The initiatives proved a huge success, including over 50% reduction in waste going to landfill, a saving of up to $800 per month in waste management fees and fundraising of approximately $500 per term through Return and Earn. Another unexpected outcome was a massive reduction of litter in the school playground, suggesting an associated awareness and sense of school pride and responsibility.
As part of a comprehensive 'war on waste' at the school, students started to collect cans and bottles for Return and Earn twice per week and the school partnered with Automated Depot Envirobank Recycling, who provided bags and regulars pickups of containers once per term for a small fee. The funds earned from this were refunded to the school's Parents and Citizens Association. Then Mrs. Cutting applied to become a local donation partner, to be featured on the local RVM screen in Kiama. In addition to raising funds, the school saw obvious benefits such as enhanced school and community culture, financial savings for their waste management and overall improved impact on the environment.
Just appearing on the local RVM screen was not enough. Mrs. Cutting understood that the school needed to promote to a local audience and the wider community to mobilise the support they needed. She identified their communication channels that offered a direct connection with Kiama residents, making use of:
Newsletters and e-newsletters.
Regular posting on their school Facebook page.
Presentations at school assemblies.
The school found the communication worked best when it focused on explaining 'why' the community should support them. They spoke about their cause – and the positive outcomes to the environment.
The school changed waste management provider to implement commingle recycling and food recycling in the school. New bins were purchased for the school playground, staffrooms and classrooms, including paper/cardboard, commingle recycling, landfill and food organics at a cost of $13,000. It was a priority for the school to ensure that each classroom had a paper/cardboard recycling bin as this convenience reduced the paper inadvertently going to landfill, from 99.1kg to 10.1kg per week.
The canteen also needed a big overhaul, including a reduction of packaging, a phasing out of plastic straws and cutlery, and a move towards compostable and better types of recyclable packing.
Uplifting whole school events, such as 'Trash-Free Thursdays' to reduce single-use packaging in the school encouraged students and staff to bring their lunch to school 'nude' and in reusable containers. This weekly novelty spilled over to form new behaviours and improved waste habits beyond the designated day.
"This is the beginning of our journey to become a more sustainable school, and the students and staff at Kiama High School would like to encourage other schools to begin their journey too" said Kimberly Cutting, Kiama High School.
Key takeout: Look at the communication channels that you already use to connect with donors, and focus on a message that allows the audience to understand and connect with the cause they are supporting.'